Men of CalWORKs
Men of CalWORKs, a parent advocacy support group, was established by former Director of GAIN/CalWORKs, Dr. Linda Cole, in Spring 2007 for the male student parent receiving Temporary Aid for Needy Families (TANF) at Los Angeles Trade-Technical College. We understand that family expectations and responsibilities may be quite challenging for male student parents thus, to ensure training success, monthly meetings are held every third Wednesday of the month from 1:30 pm to 3:00 pm virtually. Guest speakers including faculty, on/off campus collaborative partners as well as business and industry are invited to share with the students. Participants also receive incentives such as computer flash drives, T-shirts and student success materials for attending the meetings.

Men of CalWORKs is facilitated by Michael Hopper, a GAIN/CalWORKs Counselor, who brings over twenty years of experience in social work, educational counseling, employment training and probation working with student youth through adult life. In addition, Mr. Hopper has worked with various County Board of Supervisors, school district personnel and city government officials to create programming designed to empower people to take personal responsibility for their lives and communities.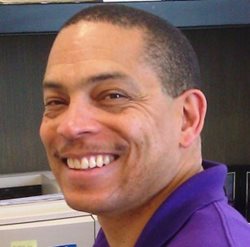 The following topics are addressed:
Discussions are held on changing economy and future employment opportunities. Participants are encouraged to utilize resources and career workshops (i.e. resume writing/interviewing, money/time management, customer service) offered through the Career Center which is sponsored by CalWORKs. Guest speakers such as the Career Resource Specialist/Advisor are invited.
Employment leads are presented to group participants. Participants are referred to the campus Student Employment Center and CalWORKs Work Study. Strategies for securing part/full-time and seasonal employment are discussed.
Workshops are presented to share guidelines and principles for educating, improving and nurturing the responsibilities and rewards of fatherhood. Community based agencies are recruited to present information to our participants. Parenting/Child Development classes are also promoted if interested and/or required by the court.
Topics are centered on helping parents maintain necessary lines of communication and interaction, along with coping with visitation, courts, and new mates of the custodial parent. Staff from Los Angeles County District Attorney's office are sought out as presentators.
Workshops focus on assisting participants with understanding legal system and their opportunities to reduce felony and/or eliminate misdemeanor charges.Workshops are collaborated with ASO and Los Angeles County DPSS/GAIN offices. CalWORKs is initiating the Expungement class via Continuing Education which students will be able to have on-going support through completion.
Facilitator/Counselor promotes discussions between new and continuing students who have been attending for at least two semesters regarding popular instructors and methods of completing coursework. Students are encouraged to continue one on one counseling/case management with the GAIN/CalWORKs Counselor.
Participants are encouraged to utilize tutorial and remedial education resources on campus if experiencing challenges with classes. Participants are referred to tutoring, writing, ESL and newly reestablished reading centers in C-Building.
Guest speakers share on techniques to reduce stress and anxiety. Participants are referred to the student health center on campus and to their GAIN Service Worker if on-going mental health is needed.
Participants receive support in creating and maintaining a parenting plan that promotes self-esteem, family rules and boundaries, discipline, and attentive listening. Family traditions are also discussed.
Participants are informed of steps to remedy academic or progress probation on campus (i.e. early alert workshops, Learning Skills, supplemental instruction, mandatory tutoring, and instructor recommendation forms).
Our goal is to help every male student parent participating in the group become confident and stable so that they can be successful in their educational and vocational aspiration and in their family life as they transition from welfare to work to self-sufficiency.