Dear LATTC 2023 Graduate,
Congratulations - You did it! Commencement is an opportunity to celebrate the culmination of all of your hard work and dedication. We are thrilled to share with you that our 2023 Commencement Ceremony will be held in-person on Tuesday, June 6, 2023 at 6 pm at the USC Galen Center. Plans are underway to celebrate your accomplishment in style.
Please continue to visit this website for more information and further instructions. This is your commencement, and we look forward to making it as special as possible.
Congratulations again, and we'll see you on June 6!
LATTC Commencement Committee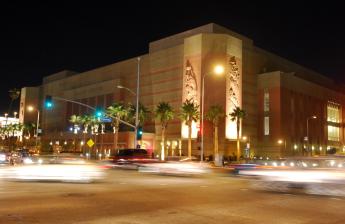 Save The Date
Commencement Theme: Your Dream Is Now
Date: Tuesday, June 6, 2023
Location: Galen Center
Address: 3400 S Figueroa St, Los Angeles, CA 90089
Time: 6 pm

If you have any questions or concerns, please email us at studentlife@lattc.edu call us at 213-763-5351 or visit us at Tom Bradley Center for Student Success, Redwood Hall, Room C-105.
Graduation Updates
Don't miss the opportunity to participate your graduation ceremony this year. Please read through the information below. We are proud of your accomplishments and can't wait to celebrate you soon!  
Submit Your Petition

 
If you have not submitted a graduation petition, please contact a Counselor. The deadline to file your petition to have your name included in the program is Friday, April 14, 2023. 
 
RSVP

 to Participate and Walk in Commencement Ceremony
Please RSVP to participate and walk in the annual Commencement Ceremony using the link below by 11:59 pm on Wednesday May 17, 2023.  If you have questions regarding your RSVP, please email us at studentlife@lattc.edu. 
Commencement Rehearsal 
Date: Monday, June 5, 2023 
Location: LATTC E - Lawn (In front of the D3-Builing - The Hub)
Time: 11 am–1 pm  
The Rehearsal will last no longer than two hours and all graduates will have an opportunity to ask questions and receive information about the ceremony. Graduation rehearsal is NOT mandatory. 

*Clear bags will be provided to graduates during rehearsal*



Clear Bag Policy 
The USC Galen Center has policies about what can and cannot be brought into the venue. Individuals who are not in compliance with these polices may be denied entry.
Approved Bags:
Bags that are clear plastic, vinyl or PVC and do not exceed 12W x 12H x 6D
One-gallon clear plastic freezer bag (Ziploc bag or similar) 
Small clutch bag approximately the size of a hand with or without a handle or strap. 
Please view the full Clear Bag Policy at the Galen Center for additional information and examples of approved and prohibited bags.
Prohibited Items
Clear bags/Bags larger than 12" x 12" x 16", Backpacks, Hard or Soft Coolers or Baskets and Bottles or Cans

Alcoholic Beverages and Illegal Drugs

Weapons including Firearms, Knives, Explosives, Fireworks, Laser Pointers and Selfie Sticks

Outside food and beverage

Professional cameras, (lenses, longer than 3") or Video and/or Audio Recording Equipment

Banners, Sticks and Poles, Inflatables, Umbrellas, Balloons, Strollers and Folding or Beach Chairs

Horns or other Noisemakers, Musical Instruments or Large music Players (Boom Boxes)

Frisbees, Balls, Skateboards or Hard Fruit

Pets (Service Animals OK)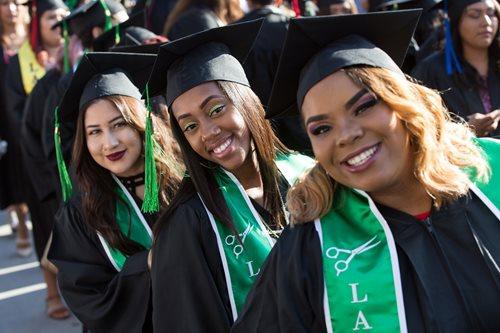 LATTC College Store Commencement Merchandise Information
Students can purchase their cap & gown online by going to College Store or visiting the C4 Building, First Floor, Mondays to Thursdays: 7:30 am–7 pm and Fridays: 7:30 am–3 pm. 

Complete Graduation Package (Includes: cap, gown, and tassel) = $60.00 plus tax

Individual Pricing

Tassel—$15.00 + tax

Graduation Sashes—$40.00 plus tax

Students can buy their class rings directly by visiting Jostens*: Order customized announcements, class rings, etc.

For questions and additional information with regard to the LATTC 2023 Commencement Ceremony merchandise, please email the College Store directly, bookstore@lattc.edu.
Reminders
Photography 
Grad Images will be on site to offer their services for all official pictures taken during the Commencement ceremony and the procession of the 2023 graduating class.  Further information on how to retrieve your photographs will be given on site and prior to the ceremony.  
Academic Attire 
IMPORTANT! Do not decorate or alter your gown. If you deface your gown, you will not be allowed to participate in the Commencement Ceremony.  If you have questions with regard to proper academic attire please email studentlife@lattc.edu or visit the Student Life Office at the Tom Bradley Center for Student Success (Redwood Hall), Room C-105 during normal business hours. 
Commencement Honors 
An email will be sent to you with more information if you are a distinguished graduate.  
Guests at Commencement 
Guests will not need a ticket to attend, but must follow the clear bag policy. Graduates are able to invite as many guests as they would like. 
 
PARKING 
Although this year's graduation is hosted at the Galen Center, parking will be available at LATTC on June 6, 2023 for the entire day. Please see below for all available parking options: 
FREE parking is available at LATTC at any of the available lots. Guests and graduates can take the EXPO Line to the Galen Center (one stop south of LATTC) 
Deadline to RSVP for Commencement Ceremony is Wednesday, May 17, 2023 at 11:59 p.m. 
RSVP Here
---
Graduates/Candidates Assembly and Procession Information: 
All graduates and candidates for graduation must report to the south side of the Galen Center (Loading Dock area) no later than 4:30 p.m. on graduation day. Check-in will begin promptly at 4:00 p.m. Please report to the Galen in Academic Attire (Cap and Gown) for check in. Graduation gowns should be neatly pressed. Please remove your gown from the package a few days before the ceremony and make sure it is ironed or pressed. Again, please do not deface your gown. If you decorate or alter your gown you will not be allowed to participate in the Commencement Ceremony. Please arrange to have your possessions taken care of prior to the Processional Assembly. No personal belongings, purses, coats, etc. may be left in the Loading Dock and Pre Procession Assembly Areas.  Please visit the link below for an arena seating chart of the Galen Center: 
Commencement Processional  
The student Processional Assembly will begin on the south side of the Galen Center around 5:30pm. College staff will be on hand to help arrange students and answer any questions. The graduating class will be led to into the arena wearing caps and gowns and carrying only their name cards. Before the procession there will be a short, final briefing on Commencement protocol (e.g. where to stand, what to do, etc.). Please plan to stay for the entire ceremony. Early exiting will not be permitted. 
If you are a graduate who will participate in the ceremony, please make sure to contact the LATTC DSPS office well in advance so we can coordinate to provide you with reasonable accommodations:
Email: dspslattc@lattc.edu
Phone: 213 763-3773
Fax: 213 763-5391
Use your LATTC email for all communications and forms related to the 2023 LATTC Commencement Ceremony; check your email account frequently for updates and make sure your mailing address is updated in your Student Information System.
If you have any questions or concerns please email: studentlife@lattc.edu