I-10 Closure: Allow Extra Commute Time in the Days Ahead
November 13, 2023
LATTC Campus Community,

On Saturday, November 11, a fire broke out just north of the I-10 freeway near the intersection of East 14th Street and South Alameda Street​—​approximately 2-miles east of campus. There were no reported injuries.

The I-10 remains closed in both directions between the East LA interchange and Alameda Street until further notice. Traffic is expected to be heavier as a result. Please allocate extra time for your arrival to campus this week—viewing safe alternate routes for arrival/departure below or via: https://emergency.lacity.gov/updates. 
 
Alternate Freeway Routes Around Closure
 
[Source: Caltrans]
Alternate Surface Street Routes to Avoid Closure
10 Freeway - Eastbound
Exit the freeway at the Alameda Street and 16th Street. To detour back onto the freeway, head northbound on Alameda, eastbound on Olympic Boulevard, and re-enter the 10 East mid-block on the approach to Lemon Street. Alternatively, head northbound on Alameda, eastbound on 7th Street, and enter the 5 freeway. All 10 eastbound freeway on-ramps between the 110 freeway and Alameda are closed at this time.

10 Freeway - Westbound
Re-enter the 10 freeway westbound by traveling west on Washington Boulevard, north on Central Avenue, and west again on 16th Street.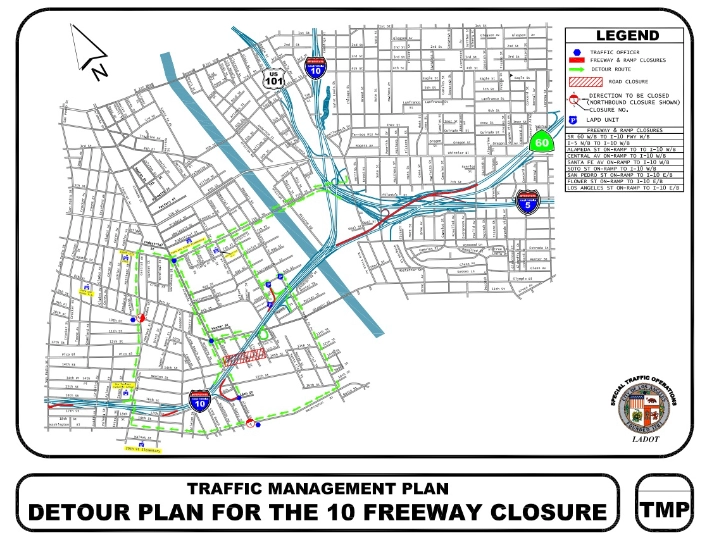 [Source: LA City DOT]