Reentry Resource & Job Fair
Wednesday, October 25, 2023
Location: 400 West Washington Blvd., Los Angeles, CA 90015
10:00 am - 2:00 pm
Campus Life
Reentry Resource & Job Fair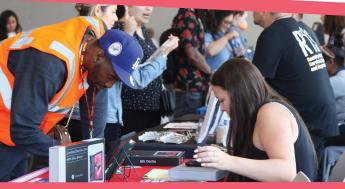 Project Impact of the Los Angeles Mayor's Office and the LATTC Reentry and Employment and Career Success Pathways is pleased to present The Reentry Resource and Job Fair. The event will feature a breadth of resources available to our justice impacted community including expungement, ticket clearing, and ID's, as well as employers looking to hire. Everyone is welcome to join!
Reentry Resource & Job Fair
Wednesday, October 25, 2023 | 10 am–2 pm
LATTC, Culinary Arts Building/E3
About LATTC's Reentry Pathway to Success 
LATTC supports its justice involved community through the Reentry Pathway. The Reentry Pathway assists formerly incarcerated individuals who are interested in enrolling into the college by providing individual support, resources, connections and an inclusive community. LATTC has a long history of informal and formal work with justice involved individuals. The nature of the college, its location, the large numbers of career technical education programs—particularly in construction, transportation, and culinary arts—and the supportive faculty, have led to a culture of inclusion for youth and adults who are justice system involved.