Learn About LATTC's Laptop Loaner Program 
January 30, 2023
In Fall 2022, Trade-Tech launched its laptop loaner program. The program has been a huge success with more than 675 students checking out a Dell laptop to loan for the semester.  

"After seeing the high demand for the laptops during the program's first semester, it became clear that this was a necessary resource for our students," said Library Chair, Mr. Robert King. "The laptops aren't for every course since students cannot download unique software, but it handily meets most of our students' basic academic needs." 
LATTC looks forward to resuming the program in the Spring. Starting Monday, February 13, 2023 students may come by the Library (D3, 2nd floor) to check out a laptop. View the FAQ below to learn how to get your laptop today! 
Laptop Loaner FAQ
How do I qualify for a laptop? 
Students must be enrolled in at least one class at LATTC during the semester when they are checking out the laptop and have a student ID card or valid photo ID. 

Great, I qualify! Where do I go to pick up my loaner? 
To check out your loaner, visit the Circulation Desk at the Library during the hours listed below. Students will then be given a loan agreement form to initial and sign.  

Spring Laptop Loaner Hours: 
Monday–Thursday: 9 am– 5 pm 

What kind of laptop is it and what does it come with? 
Laptops are all Dell Latitude 3429, 14" notebooks that come equipped with MS Office 2021 and Windows 11. In addition to the laptop, students will receive a LATTC backpack and a charger. Though the laptops and chargers must be returned after each semester, the backpacks are yours to keep as part of the program (while supplies last!).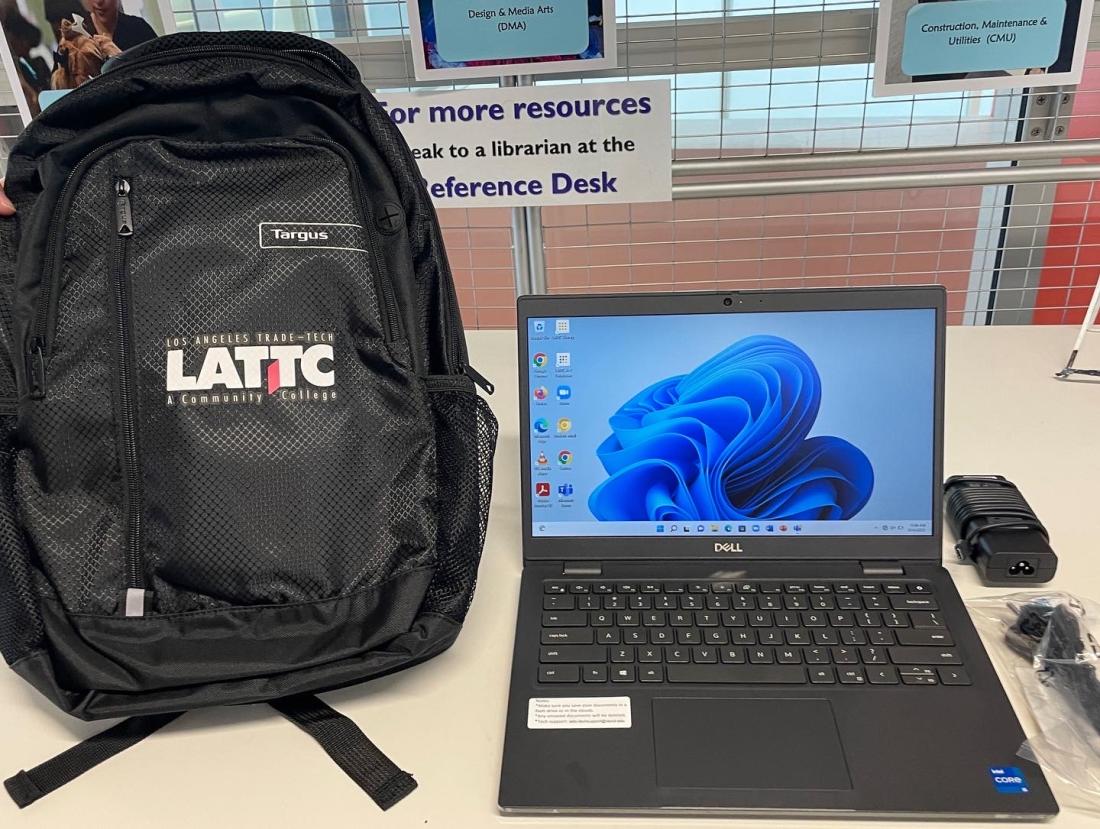 How long do I have my laptop for? 
Laptop check out periods are for a full semester. Devices must be regularly maintained and updated between each use, so it is important that they are returned on time at the end of each check out period. If you are a student who still has a laptop from Fall 2022, please return it to the Library as soon as possible during regular library hours. 

My laptop is acting up. Who can I talk to for support?  
In-person: visit room MA-206 in the Library. 
Online: please submit a help ticket at https://lattc.libguides.com/homepage/techhelp  
 
If you have any additional questions about the program, email library@lattc.edu.