LATTC Culinary Arts Students Take Home Two Medals from SkillsUSA, the Largest Showcase of Skills in the World
June 28, 2023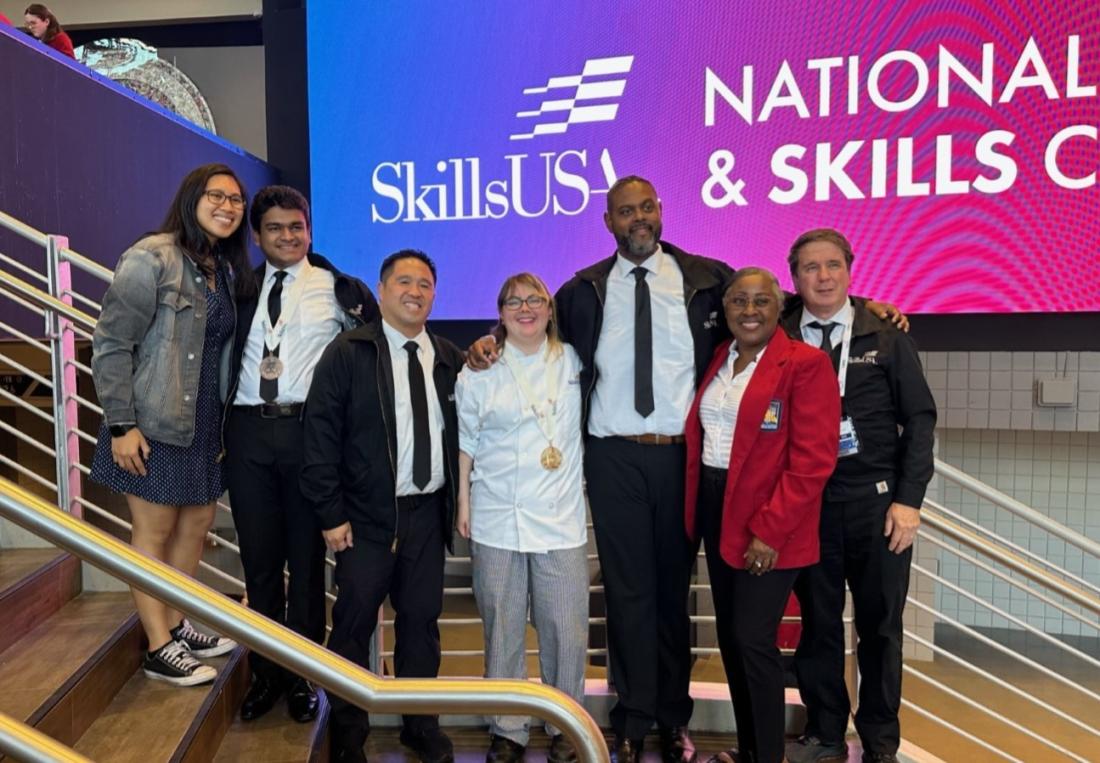 Chef Advisor Gayle Lachica, Culinary Arts student Pradhyuman Jha, Chef Advisor Stacy Damaso, Culinary Arts student Samantha Gaydowski, Culinary Arts student Eric Campbell, Culinary Arts student Veronica Hendrix, and Chef Advisor and Culinary Arts Department Chair Jerry Vachon pose together at the SkillsUSA conference in Atlanta. 


On June 19–23, 2023, four students and three instructors from LATTC's Culinary Arts pathway traveled to Atlanta for the National Leadership & Skills Conference. The annual conference marks the largest gathering of America's future skilled workforce and was attended by more than 6,500 competitors across 110 competitions.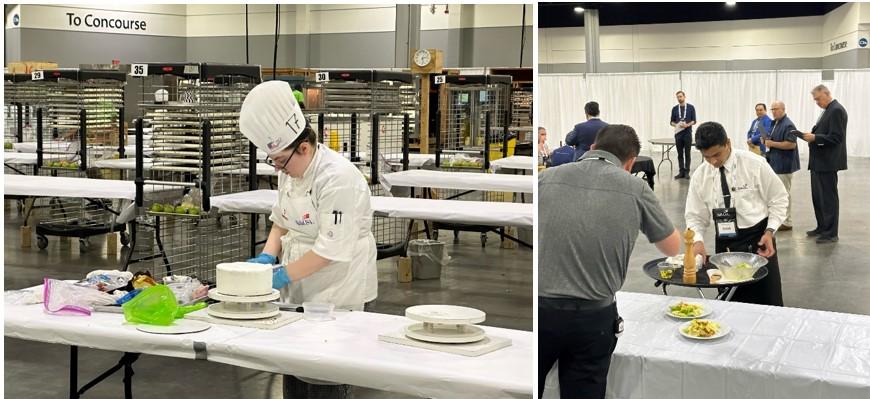 Left: Samantha Gaydowski in the Baking & Pastry Arts category; Right: LATTC student Pradhyuman Jha competes in the Restaurant Service category. 

Following a fierce couple of competition days, Trade-Tech's Samantha Gaydowski took home the gold medal in Baking & Pastry Arts and Pradhyuman Jha was awarded the bronze medal in Restaurant Service. Both category medals marked firsts for Trade-Tech. 
"Participating in SkillsUSA was an amazing learning experience that I would not have had the chance to compete in had I not attended Trade-Tech," said student Samantha Gaydowski. "I am honored to have represented my school, and am grateful to my advisor, Chef Stacy, as well as all my instructors who helped me along this journey."

Student, Pradhyuman Ja said, "Participating in SkillsUSA has been nothing short of an adrenaline-fueled ride with countless hours put in practice on improving upon every technique. The experience of just making it to the nationals this year was a great achievement; I made so many friends, connections, and memories. I am grateful and honored to have represented Trade-Tech. All of this could have not been possible with the undying support of my advisor Chef Gayle Lachica, my family, and my friends."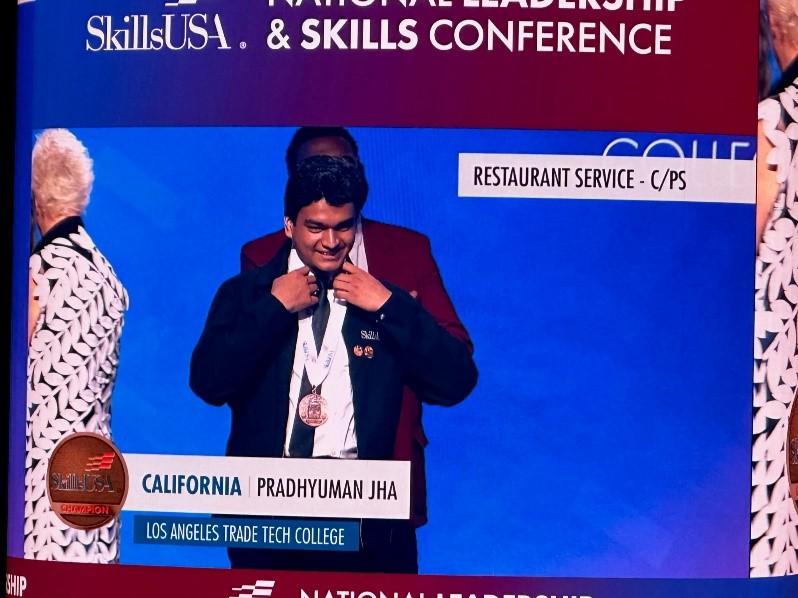 Student Pradhyuman Jha receives his bronze medal in Restaurant Service. 

Congratulations to all of Trade-Tech's participating students! 
LATTC SkillsUSA Representatives:
Baking and Pastry Arts
Student: Samantha Gaydowski
Advisor: Stacy Damaso

Culinary Arts
Student: Eric Campbell
Advisor: Jerry Vachon

Restaurant Service
Student: Pradhyuman Jha
Advisor: Gayle Lachica

Customer Service
Student: Veronica Hendrix
Advisor: Gayle Lachica