Get to Know Your 2022–23 ASO President, Mr. Derek Peltier-Reed
February 3, 2023
Trade-Tech is excited to spotlight your 2022–2023 Associated Student Organization (ASO) President, Mr. Derek Peltier-Reed. Mr. Peltier-Reed shares a bit about himself and what ASO looks forward to working on in the Spring semester ahead. 
Tell us about yourself! When did you start at Trade-Tech and how did you learn about the college?  
Salutations, my name is Derek Peltier-Reed, and I am currently a carpentry student here at Trade-Tech. I am also blessed to be the campus's student body president. I started attending Trade-Tech in the fall of 2020. I had always passed by the college and found the architecture and ambience of the campus astonishing. 
What have you enjoyed so far as a student at Trade-Tech?  
As a student at Trade-Tech, I've enjoyed the immense amount of care and dedication from all faculty and staff. The instructors truly want their students to succeed, not only the instructors in my own pathway, but every pathway here. 
What are some of your responsibilities as ASO President?  
Some of my responsibilities as ASO president are to be an advocate for students first, making sure the student body feels welcomed and considered every day. I do everything in my power to represent our students on campus. How the faculty can work our ASO board is to remain in contact with us and inform us of various things that occur on campus. That way, we can share that information with the student body and ask questions if we feel it wouldn't benefit the students. 
What's your favorite part about serving on ASO?  
My favorite part about serving as ASO president is having the opportunity to be a voice for the students, putting together exciting events, and having meetings that allow our ASO board to do more for the students.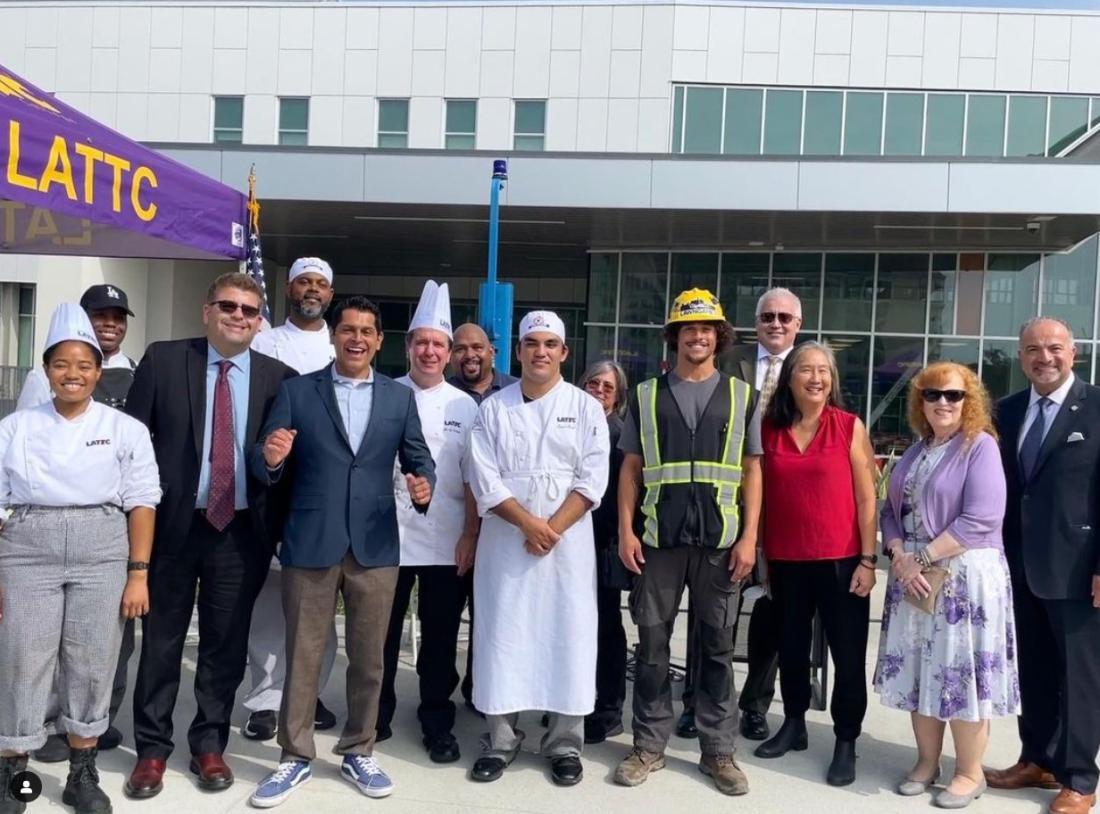 Right: Derek Peltier-Reed in his hardhat with LA Community College District (LACCD) Trustee Dr. Gabriel Buelna, Assemblymember Miguel Santiago, Culinary Arts Chair Chef Jerry Vachon, William Elarton, Chair of Construction Maintenance & Utilities, Kathleen Yasuda, Director of the Labor Center, LATTC President Dr. Kathleen Burke, and LACCD Chancellor Dr. Francisco Rodriguez; and students from the Culinary and Construction Maintenance & Utilities pathways last fall as they discussed Measure LA and what its funding will mean for our community and future campus development. 
What are some of ASO's plans for the year ahead?  
Some of the ASO plans for the year ahead are: attending our women's basketball games and serving as volunteers at the concession stand, chartering clubs, attending the open houses and making them as exciting as possible, and leaving a blueprint for future ASO boards to have a smooth and feasible term. 
Where's your favorite place on campus?  
My favorite place on campus has to be the athletic field (a place to meditate) or the ASO office/office of student life. These places offer an opportunity to relax, study, and find stillness.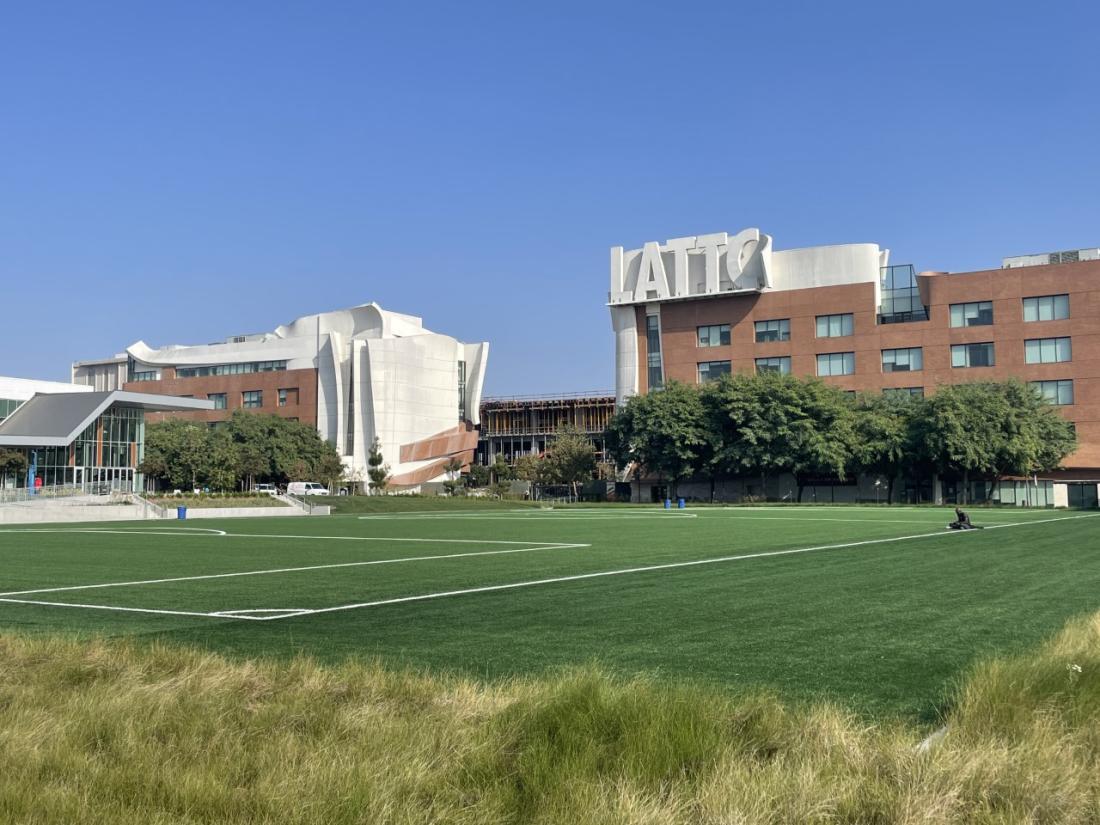 LATTC's athletic field—a meditative space.
What's your favorite spot in Los Angeles (i.e., restaurant, bookstore, park, etc.)?  
My favorite spot in Los Angeles is "The Last Bookstore". I love to read and enlighten myself as much as I can. Ask me about my book club! 

 
You can contact Mr. Peltier-Reed at lattc-aso-pres@laccd.edu.