Dr. Alfred McQuarters Announced as Next President of LATTC
April 13, 2023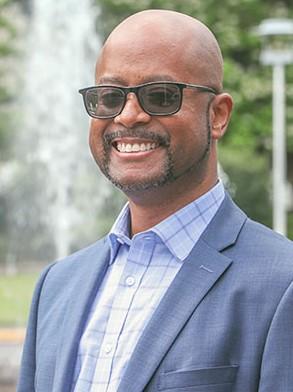 On Wednesday, April 12, 2023, the Los Angeles Community College District (LACCD) Board of Trustees unanimously approved the appointment of Dr. Alfred McQuarters as the next permanent President of LA Trade-Technical College beginning July 1, 2023.  

"On behalf of the LACCD Board of Trustees, we are pleased to approve the appointment of Dr. McQuarters," said Board of Trustees President David Vela. "He exemplary academic leadership as well as his equity, diversity and inclusion efforts align with the District's goals to ensures the future success of LA Trade-Technical College." 

"Dr. Alfred McQuarters is a proven leader who is committed to equitable student success and academic excellence," said Chancellor Francisco C. Rodriguez. "His broad experience spans both college administrative and faculty roles as Vice President, Dean, tenured faculty member, chair and as an adjunct faculty member." 

"Los Angeles Trade-Tech College has a strong student diversity and a legacy of preparing students for trades and technical career. It is an honor to be part of the LACCD family as I serve in my new role as LATTC president," said Dr. McQuarters. "I am excited to work alongside my new District colleagues and LATTC's amazing faculty, classified professionals, administrators, and community partners with such a heart for serving and supporting equitable student access and success. The ability to co-create conditions which will provide economic and social mobility through-out LA county brings me immense joy." 

Dr. Alfred McQuarters has broad experience in both college administrative and faculty roles as Vice President of Instruction at Mt. Hood Community College in Oregon; Dean of Career Technical Education-STEM at Portland Community College Southeast; tenured faculty member and chair at Malcolm X College, City Colleges of Chicago; and as an adjunct faculty member (Triton, Truman, Lansing Community, and Harold Washington Colleges). His portfolio includes successful leadership at complex single-campus, multi-campus, and multi-college districts with enrollments ranging from 12,000 to 60,000 students.  

As Vice President of Instruction at Mt. Hood Community College, Dr. McQuarters was responsible for the college's general education, transfer and career technical education programs, workforce development and apprenticeships, small business development center, aquatics center, athletics, adult and community education, library services, student success programs, and high school services that include several dual enrollment programs. Dr. McQuarters possesses strengths in program and curricular development, CTE and STEM education, strategic thinking and innovation, accreditation, student success initiatives, community outreach, grant development, and in bolstering business engagement and industry partnerships. He was also instrumental in establishing the first Bachelor of Applied Science degree in cybersecurity at a community college in Oregon. 

A first-generation college student, Dr. McQuarters holds a doctorate in education with a community college leadership emphasis from Oregon State University, a M.B.A. from Central Michigan University, a M.S. in molecular biology from Howard University; and a B.S. from Penn State University. His area of scholarship focuses on the racial battle fatigue of Latina/o and Black community college students. Dr. McQuarters is married to his wife, Keyonda, of 23 years, and they are very proud of their four children.