General Scholarship Application
---
Spring 2023
Application Available Now!
The General Scholarship Application is available now.
Deadline to apply is Friday, March 17th by 11:59pm.
General Scholarship Application:
*Login required - same as Student Email and PeopleSoft. Login to PeopleSoft first if you don't know your student email address
See Login and Instructions for help
Minimum Qualifications*
Cumulative GPA of 2.0 or higher

LATTC must be your home college 
*If a student has holds/debt to the College, an award will first be applied to that debt.

No further documents are required for verification of minimum qualifications, participation in special programs (such as DSPS and AB540) or academic programs. All information will be collected through our student records.
QUALIFICATION NOTES
Student debts to the College will be deducted from any award amount
Students Receiving Financial Aid

Your unmet financial need must be greater than a scholarship award

DSPS Students

If you have been approved for a reduced unit load, 6 units qualifies you as a full-time student with prior DSPS approval.
Login and Instructions
1. Click the Apply Now button and login using your Student Email address.

---
2. Answer the required questions.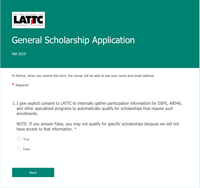 ---
3. Click Submit - You may also send yourself a copy to your student email.

*Be prepared before starting the application - see Preparing for the Application (below).
If you have any questions or for assistance with the application please email studentlife@lattc.edu
Preparing for the Application
BE ADVISED: Application cannot be saved. Once you start, you must complete all parts of the application.
Know your program of study
Be prepared to list any volunteer/community service (optional entry)
Points are awarded to those with a completed Student Education Plan (SEP) (optional)
See pathways and programs below (links open in new window):
Academic Programs by Pathway
About Pathways
---
Instructor References
Please request a recommendation from your instructor by the deadline of the Scholarship Application.
Message an instructor for a recommendation using the SIS (PeopleSoft) or Canvas. See the Message an Instructor page for help.
Instructors: Please submit your reference using this link: Spring 2023 Instructor Reference Form
---
Essay Question
How would this scholarship contribute to your educational success? (250 Word Limit)