Visual Communications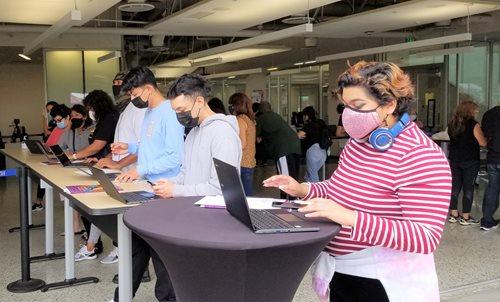 Program Overview
The Visual Communications program at LATTC is the starting point for exciting careers in animation, art direction, digital imaging, graphic design, illustration, multi-media, web design and other related fields. The fast paced two-year program begins with fundamentals: color, design, drawing, prepress and typography. Advanced levels create finished portfolios on a Macintosh computer, utilizing industry standard digital software. Student portfolios demonstrate creativity and discipline, displaying dynamic art sensibilities and creating visual solutions for problems of marketing and publishing. The Visual Communications program focuses on four core areas:
GRAPHIC DESIGN: Beginning levels will study the areas of layout and design, typography, and advertising concepts. Advanced levels will develop logos and corporate identity programs, design brochures with extended text, and create original magazine advertising, which is directed to specific audience demographics. Problem solving, brainstorming and computer training will receive equal emphasis. Graduating student portfolios incorporate a wide variety of projects showcasing the student's ability to conceptualize, design and use typography as a communication tool.
DRAWING: Beginning levels will study freehand observational drawing, perspective and the principles of light and shade. Black and white mediums will be explored in pencil, markers and ink. Advanced levels create comprehensive layouts in color marker and pencil as preliminary development. Finished designs and illustrations for advertising and on-line usage are then created traditionally or digitally and serve as portfolio samples.
DIGITAL PREPRESS: Thorough study of the preparation of art, graphics, photography, and typography for reproduction in print. Beginning levels concentrate on understanding the mechanics of color separations and print specifications. This knowledge is then applied as students create digital files that utilize specific print requirements. Advanced levels prepare complex graphic computer files for output at commercial printers.
COMPUTER GRAPHICS: The creation of art and design on the computer requires mechanical know-how and considerable familiarization with the workings of several graphic software applications. The Visual Communications program offers instruction in Adobe Creative Suites: Acrobat, Dreamweaver, Flash, Fireworks, Illustrator, InDesign and Photoshop and HTML. Graduating student portfolios demonstrate familiarization with each of these software applications and an ability to manipulate each for specific uses and creative affects.
Today's commercial marketplace for artists has never been more available. Flash motion graphics and web design have initiated new and creative directions. Traditional artists and conventional designers continue as before but have incorporated digital software within their accomplished collection of talents. This blending of tradition and technology is the primary emphasis within the Visual Communications program.
By fulfilling the program requirements, students can pursue many different creative careers. While it is advisable for students to continue higher education, many graduates have entered the workplace upon completion of the Visual Communications program alone, realizing creative and financial success. Graduating students acquire visual sensitivities with respect to type, images and graphics; they are trained in the visual software used by industry, and understand marketing as it applies to commercial art. Additionally, graduates market their work appropriately to specific audiences for freelance opportunities.
Program Learning Outcomes (PLOs)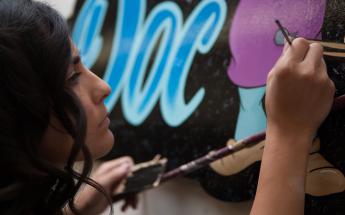 ​Upon completion of the Degree/Certificate program, students are able to:
Students will be able to design original layouts utilizing creative marketing concepts that reflect Graphic Design and related industry standards.
Students will be able to use advanced traditional and digital artist tools with technical proficiency, aesthetic sensitivity, and refinement.
Program Details
| Award Title | Award Type | Required Course Units | Total Major Units | GE Units |
| --- | --- | --- | --- | --- |
| Visual Communications | AS | 46 | 48 | 21 |
| Visual Communications | C | 46 | 48 |   |