Program Overview
Renewable Energy Technician - Solar Thermal PDF
LATTC offers a series of courses for individuals interested in working in the new, emerging renewable energy and energy efficiency industry. This degree program includes courses that enable individuals to: (1) have the requisite knowledge and skills to obtain employment in the energy/utility sector, (2) be prepared to obtain solar thermal installation and maintenance entry-level occupations, and (3) obtain skills and expertise to pursue other renewable energy and/or energy efficiency occupations.
By fulfilling the program requirements, students have the necessary knowledge and skills for a career in residential and commercial solar thermal and renewable energy-related occupations.
Program Learning Outcomes (PLOs)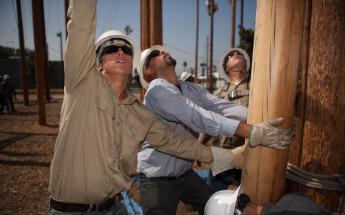 Upon completion of the Degree program, students will be able to:
Perform solar thermal installations and maintenance work utilizing hand and power tools.
Certify the proper and safe operation of solar thermal systems utilizing proper test equipment.
Calculate solar thermal system efficiency, performance, and installation costs.
Program Details
| Award Title | Award Type | Required Course Units | Total Major Units | GE Units |
| --- | --- | --- | --- | --- |
| Renewable Energy Technician: Solar Thermal | AS | 38 | 42 | 21 |
| Renewable Energy Technician: Solar Thermal - Installation and Maintenance Technician | C | 30 | 30 |   |