Know Your Rights About AB 705
---
The AB 705 Initiative and What it Means for Students
In response to Assembly Bill (AB) 705, Los Angeles Trade-Tech College has moved away from standardized testing as the primary means of assessing students. As of February 2019, in response to Assembly Bill AB 705, the bill requires that Los Angeles Community College District or college maximize the probability that a student will enter and complete transfer-level coursework in English and Math within a one-year timeframe.
Students who earned or obtained any of the following within the past ten (10) years, are eligible to participate in the new AB705 English & Math placement process known as Multiple Measures.
Earned a high school diploma from a U.S. High School
Passed the General Educational Development (GED) test
Obtained a high school proficiency certificate
All students who meet any of the three requirements are eligible to enroll in transfer-level English and Math with varying levels of support courses recommended by a counselor. Students who do not me the criteria above are recommended to follow the Guide Self-Placement process for English and Math Placement.
Automated Self-Placement and how the process works
Starting February 2019, continuing credit students will receive an email informing them that they may go to their Student Portal "To-Do-List" and complete the web form (which contains the same placement questions as the CCCApply application).
What was your unweighted high school GPA?
What was the highest English course you took in high school?
What grade did you receive?
What was the highest math course you took in high school?
What grade did you receive?
Note: English and Math assessment results post within 72 hours after answering the questions.
New and returning applicants who graduated High School within the last 10 years
will self-report information about their high school experience (GPA, English course, math courses, grades, etc.) and automatically receive English and math placement upon completion of the "CCCApply" college application.
Guided Self-Placement
Student who are not able to provide enough information for Automated Placement, and/or have been away from high school for more than 10 years or did not attend/graduate from a US high school, earn a GED, CA High School Proficiency certificate, may use the Guided Self-placement process.
To participate in the Guided Self-Placement process, please visit the Assessment Center in D3-01 or email us at assessment@lattc.edu. Please note that Guided Self-Placement is not a test.
Credit English as a Second Language (E.S.L.)
If English is not your primary language and you would like support to further develop your English language skills.
How to View English and Math Placement Results
Please follow the steps below to view your English & Math placement results.
Log into your student portal
Click on "Student Status".
Click on "Assessment Results"
Be sure to read the "Placement Message" when viewing your results.
Example: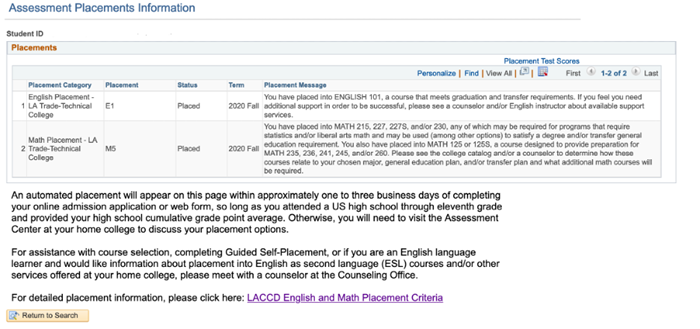 If assessment results do not appear, please contact the Assessment Center for assistance at assessment@lattc.edu.
Risk Free Assessment
Still not sure if you should take English 101 or English 101 with support? Complete this "Risk Free Assessment" and based on your score we can recommend the best class for you.Choose one of the following essays, then submit the respective form.
Tip: It's recommended that you complete the reading and draft your response in a text editor, then return to the form (copy/paste from your document) to submit. There is no time limit, but your browser may end your session and not submit your work after more than 30 minutes. This will help to avoid losing your work.
Option 1
Learning to Read by Malcolm X PDF
Option 2