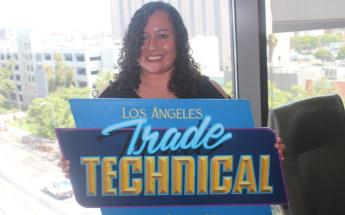 Abigail Cuevas
When there are events on campus, you'll likely see Abigail Cuevas. She likely will be smiling and asking you to join in the fun at her college, and she is a twin so you might think it is her sister.
Abby is the definition of a Trade Tech baby. Her parents brought her and her sister to this campus when she was very young because it was haven for them. There was too much violence in the neighborhood parks, so her parents would bring them to campus to play and enjoy the safe environment.
Abby's parents separated when she was 14, and immediately she knew she would have to take on more responsibility in order to help her mom keep the household together. She remembers her friends asking her to go out and have fun, and she had to spend lots of time helping her mom. Of course that didn't stop her from graduating from Wallis Annenberg High School with honors. And of course, she knew she would enroll at LA Trade Tech, because it was part of her childhood.
She enrolled in 2011 but had to leave school due to a serious illness. Abby did not return to school until 2016 when one of her close friends died. She was considering a career in administration of justice but took a design class in architecture. It changed her life. She has blossomed in architecture and she and her sister were part of the Trade Tech student team that recently won the Junk Wars competition against some four-year universities, turning waste into usable energy.
She is student success at Trade Tech.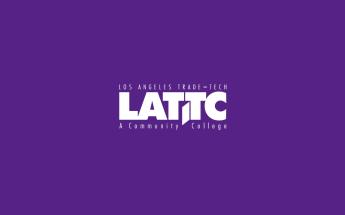 Aika Azuma
Graduate. Fashion certificate. 2017.
Yes, LATTC draws students from around the world. Take Aika Azuma. She is from Japan. She always knew she had a passion for fashion but when she attended FIDM, she did not find the education environment she was seeking. In addition, the school was very expensive for her.
She did some investigating and found LA Trade Tech online. She stopped by campus and visited with a counselor, who convinced her that this school was the best educational value in town. Even though she was learning English, and transferred, she found exactly what she was looking for at LATTC. She excelled in the program and went step-by-step through every class on her way to a certificate. Straight A's throughout her entire career.
She graduated in 2017, and immediately qualified for a fashion internship available to students who complete. She now has worked for Love and Lemons where she cut patterns, independent designer Adolfo Sanchez, where she was asked to sew garments, and she also worked for Calia Lahay where she has worked on alterations and tailoring.
She also loves American movies and is setting her sights on work in costuming. No doubt her name will turn up in the credits very soon.
This is another example of student success.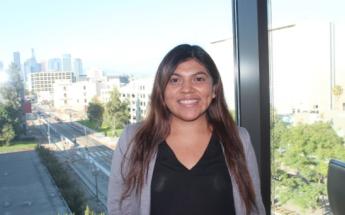 Alexa Victoriano
We include Alexa in these stories because of what she has done for students here at LATTC. Alexa served as the student trustee for the entire Los Angeles Community College District, representing more than 140, 000 students throughout all nine campuses including Trade Tech.
But her story is not unlike those on this campus, even though she actually graduated from LA Harbor College. Her parents migrated from Mexico, so she is the first in her family to go to college. She has six brothers and sisters but she is the first to be born in the U.S. Her focus was always on education because she felt that people would overpower her with knowledge. In a way, she felt that certain people would put her down and would bully her in high school. So she dived into things like Latin dancing and the library team council. She also got involved in community advocacy. After enrolling at Harbor she was asked to run for ASO, the student leadership organization, and she embraced the role.
She has focused on student engagement and her ability to use her experience to make a difference in people's lives. Alexa has gone from a face in the crowd to a district leader.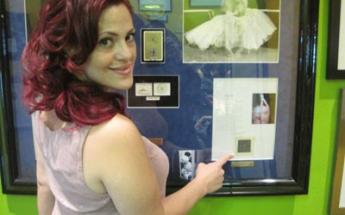 Angelica Gomez
Where do champions come from?
Angelica was desperate when she first visited her community college, Los Angeles Trade-Technical College. She walked onto campus with $14 in her pocket. She and her children were directed to the GAIN/CalWorks office, which helped with housing and enrollment in cosmetology classes. The assistance and the training allowed her to blossom. She became the very first community college student to win the Junior Style Stars National Competition. The championship included $56,000 in prizes and mentoring from some of the most famous stylists and artists in the world. She has secured her four-year degree, and plans to teach cosmetology. When she spoke at LATTC's graduation, she told fellow graduates that their dreams will be nurtured by a community college. It's where champions can be forged.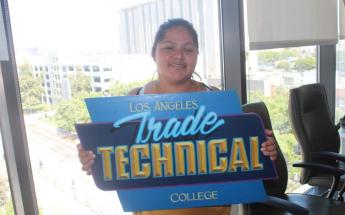 Arandeli Posadas
Arandeli Posadas has already done a whole lot in her life.
She has helped her single mom to bring up her younger brother trying to keep a stable household as she attended Trade Tech. She graduated from Gertz-Ressles High School and worked all kinds of jobs to help her mother. That includes working at a factory, inside restaurant kitchens, customer service, babysitting and housekeeping. She used to drive past LA Trade Tech almost every day and finally decided to enroll in 2015.
She was in search of assistance in moving forward with an Administration of Justice degree. She found two organizations that helped her campus. She joined the state program known as Puente, which seeks to provide student guidance through a transfer pathway. She also joined RISE, which stands for Respect Immigrant Student Education and eventually she became the group's president.
She learned how to manage her time, she learned how to organize events, she learned how to effectively communicate, she learned how to rally her classmates and she learned a lot about her abilities to lead. During her RISE presidency, she advocated for and was able to secure the district's first-ever Dream Resource Center right here at LATTC. This center now serves hundreds of Dreamers with resources, legal advice and tutoring.
Aradeli earned her A.A. degree in Criminal Justice and transferred to Cal State Dominguez Hills. She's still balancing work and school, but she knows she is closer to her goal.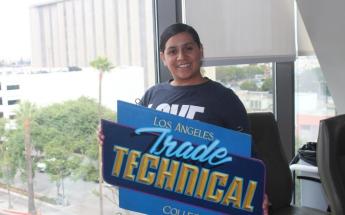 Beatriz Argumedo
Beatriz Argumedo is a survivor. She unfortunately had to watch her mom being abused in her home. So one way she felt that she could help her mom, was to cook the family meals. She started at age 7. Given her home life, cooking became her therapy, all the way through her graduation from Maxine Waters High School. Her road did not get easier. She became addicted to drugs, entered into an abusive relationship herself and still was trying to bring up three children. She struggled in this environment for ten years and at one point lost custody of her children. She cleaned up and eventually recovered custody of her children in 2012, and followed that up by re-starting her life. She knew she did not have enough skills to enter the job market, so she enrolled in the culinary program at LA Trade Tech College. It was time to blossom.
She became president of the Culinary Arts club, won awards for her creations and her experiences have been shared with her classmates. She graduated with certificates in culinary arts and restaurant management in 2016, and landed a job at a restaurant in Beverly Hills. But she's not stopping. She is back at LATTC majoring in criminal justice, trying to create an even better life for her children.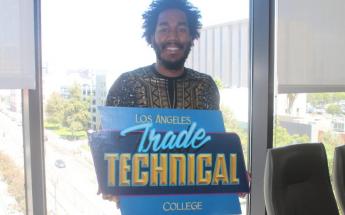 Brandon Davis
Brandon Davis knew something had to change in his life after he spent one summer working for a package delivery service. His first paycheck was $54.
Immediately he began investigating community colleges and his choice was LATTC. Brandon was home-schooled through a program called City of Angels in Gardena, and it was then that his love for engineering began. In fact, members of his family work in the oil refinery business, so he had figured out his career choice long ago. Brandon loves to connect with people. He loves the Trade Tech energy and is a real fan of our diversity. He also likes to give back.
Brandon has spent two semesters as a math tutor, in our campus cross-cultural center. He tutors in math. Other students like his style because they claim Brandon breaks down the subject in very simple terms. Students like Brandon's tutoring because they say he doesn't speak down to them, he instead attempts to find their level, and brings them up to where they should be. That's not an easy task.
He also points to LATTC engineering instructor Artemio Navarro for encouraging him to become a tutor and to help his classmates when they are in need. He currently receives assistance from student services for books, supplies and his current position. He'd like to transfer to Morehouse College in a year. That could be the next big change in Branson's life.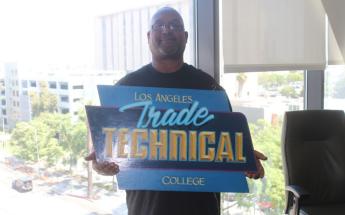 Charles Greene
Charles Greene has changed his life. The man had twelve siblings and felt lost growing up. He didn't receive much attention from his family, so he started looking for attention elsewhere. He dropped out of middle school. Soon enough, he was hanging with the wrong crowd, and ended up committing crimes and going to jail. From 1984 to 1996, he was in and out of incarceration. Finally, he made the personal choice to lead a more productive life, he decided to attend church and he took a job in the transportation field as delivery person for Black and Decker and DHL. During that time, he would drive past Los Angeles Trade-Technical College, and he wondered whether the transportation training could further his dreams. It was not long after that he enrolled at LATTC , and dived right into the auto collision classes where he excelled. He just loves restoring old vehicles and joined other students in restoring an old fire engine that was donated to Haiti.
Charles says it was instructor Fred Morago, who taught him about the transportation industry, and Charles is pursuing something that a lot of students do here. He is taking classes to secure his GED. He knows it will help him further his career. Besides his career, Charles spends his time as a youth pastor but is never too far away from Trade Tech and his classmates. He mentors current transportation students and loves to talk about cars.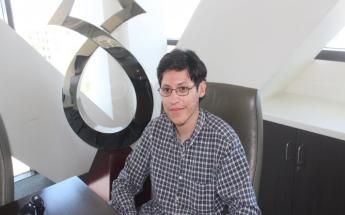 Christian Banuelos
Christian Banuelos found his strength at Trade Tech.
Christian is a visually-impaired student dealing with a disease called Stargardt, also known as juvenile macular degeneration. His eyesight is diminishing but not his thirst for education.
Christian was diagnosed with this disease as a teenager and it made him depressed. He felt cut off from the world, until he enrolled and walked onto the campus of LA Trade Tech College. People began encouraging him to embrace higher education, and they were especially interested in his talent of being to express himself through poetry and rap. That's how Christian found his voice, and began his journey of beating back the stigma of being visually-impaired.
He has joined the Performing Arts Club and has been president of the Puente chapter on campus. He has become an inspiration for some of his fellow students. This ability to help others and to express his thoughts has made his experience here at Trade Tech, both exciting and fulfilling.
Christian credits LATTC and the office of Disabled Student Programs and Services for giving him the courage to cope. His future is in clear focus now.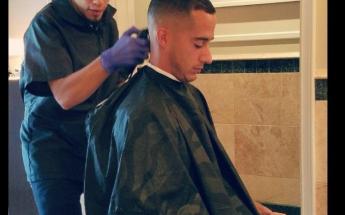 Danny Martin Del Campo Larios
Before entering LA Trade Tech, Danny thought he had poor communication skills. He quickly noticed once he was in the barbering program his skills began improve. The program gave him confidence and more experience with clients. LA Trade Tech's barbering program provided the opportunity to understand what is meant to be a professional barber. Danny credits faculty member Elton Robinson for teaching him ways to increase sales by using before and after pictures. Danny says Robinson also taught him how to deal and treat every customer with respect. For Danny, LA Trade Tech gave him an opportunity to fulfill the requirements to become a licensed Barber.
Danny is the 2nd of the graduates to acquire his license as a professional barber from the first barbering program at a community college in the state, LATTC.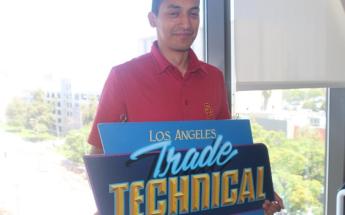 John Noyola
Not too many people go from high school dropout to a Masters' program at USC. But John Noyola has done just that and the road went right through LA Trade Tech.
John's family never placed much emphasis on education, it was always work first, so leaving high school was not considered unusual. In fact, his work ethic led him to jobs where he would work 12 hours a shift. It took some influencing from a friend, to get him to acquired his GED from the Friedman Occupational Center and that's where he heard about LA Trade Tech. Among the first classes he took was English 21 and the instructor Roberto Mancia challenged him to focus on his educational goals and to work hard. John was especially concerned about his writing since he hadn't been attending school for some time. But Mr. Mancia worked with him and he passed. Then came a second obstacle to transferring. That was Math 125. It was very difficult but again he finally passed on the sixth try.
At the same time, he also became one of the most influential student advocates on campus. He joined student government and eventually became a peer mentor. His calming sensibility and his knowledge of social issues made him very well respected. He became ASO treasurer and eventually vice president. He created ASO's current structure and helped to build the influence of the Inter-Club Council. He pushed for affordable textbooks, he served on student statewide committees.
He transferred top Cal State Long Beach and earned his bachelor's degree in political science. And then was accepted into USC's Master's program for Educational Counseling. He says giving back makes him most happy.
John has come a long way.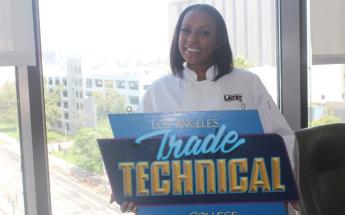 Nakisha Mcfadden
Nikki McFadden is both a superstar in the kitchen and as an entrepreneur. She is determined to be a successful woman in a male-dominated industry.
Seeing how her creations made people smile, she enrolled in Trade Tech's culinary program in 2014. She had a passion for cooking because she can put a smile on people faces. She believes she was groomed to do this by her mother. At a young age she was cooking and helping around the house. She loved her classes and time at Trade Tech. The culinary department was her family and they want every student to succeed.
It wasn't always easy for Nikki. She came from a single family household and assisted her mom raising her sister. Not only did the Trade Tech program teach her time management, but also leadership, assertiveness, and ask if you don't know something. The Culinary department introduced her to WCR (Woman Chief Restaurant) where she met some of her current mentors. Not only did she recently graduate with her bachelor's degree in hospitality from Cal Poly, she is now Executive Chef for Epicurean Eats & Trojan Grill bar-be-que. Does she give back? She has hired students to be chefs at both of her companies.
One of the LATTC superstars.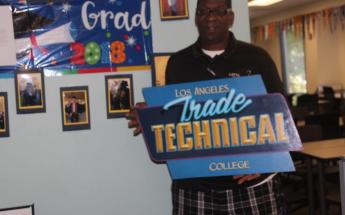 Vincent Rogers
Vincent Rogers could have easily let his life revolve around one mistake. But he didn't. Back in 1990, he was attending LATTC and was in the workforce when found himself at a nightclub. Someone disrespected him and a fight ensued. When the dust settled, he was serving a six-year prison sentence. After being released his father passed away, so it was a difficult time, and education was furthest from his mind. It was his mother, also grieving, who told him to get off the couch and go secure more education. One of the last things that his father said to him, was to finish his education and take care of his mother.
He came back to Los Angeles Trade Technical College in 2012, and was contacted by Umoja to join the program. In 2014 he was promoted to be an English tutor. He is currently tutoring students at the Umoja Village. His experience as an English tutor ignited his passion to be an instructor in English. He wants to impact students' lives in a really positive way. He likes the fact that he is teaching people and changing their way of thinking about English. He especially wants to change the narrative surrounding black male teachers in general.
It could have been easy for Vincent to be bitter about his incarceration. Instead he used it as motivation to change other lives in a positive way.